The sunrise as seen from La Iguana's yoga deck
one of many beautiful flowers around La Iguana
Dawn from the upper pasture
A metal heart hangs in front of a cacao pod
Laundry hanging out to dry in the morning sun
The spectrum of cacao colors is due to different types of cacao and varying fermentation durations
Cacao Pod and Beans
The cacao pod surrounded by toasted and shelled cacao beans
Jaboncillo
Jabón = Soap
Jaboncillo can be used to make natural soap. After biting into one, I can confirm it tastes like soap.
The night sky as seen looking towards the plant nursery from the yoga deck of La Iguana.
Night
One of La Iguana's white horses grazes under a blanket of stars
The view from the road leading to Mastatal, while walking from La Iguana, looking towards La Cangreja. The barren section of La Cangreja (visible in the upper left part of the raised hills) is an outlook that myself and 12 other people reached after a 4 hour hike.
Isidro, a man who lives on a neighboring farm, herds his cows to a different pasture, on the road between La Iguana Chocolate and Mastatal
The nursery is where seedlings are started before being transplanted to the larger garden. It is a covered nursery which makes it great to dry clothes.
Wooden boxes hold starter seeds.
Baby bok choi, four days after being planted. A special mix of compost and worm poop "supercharges" the sprouting process.
A seedling grows in the long and narrow planters made from bamboo
Volunteers' boots arranged near the volunteers' dorm and the foosball table
The view from relaxing in the hammock, where volunteers and family members relax after a morning's hard work
The view from the shower opens to the valley, partly shrouded by a flowering plant. There are no houses in sight in the valley, which makes this possible.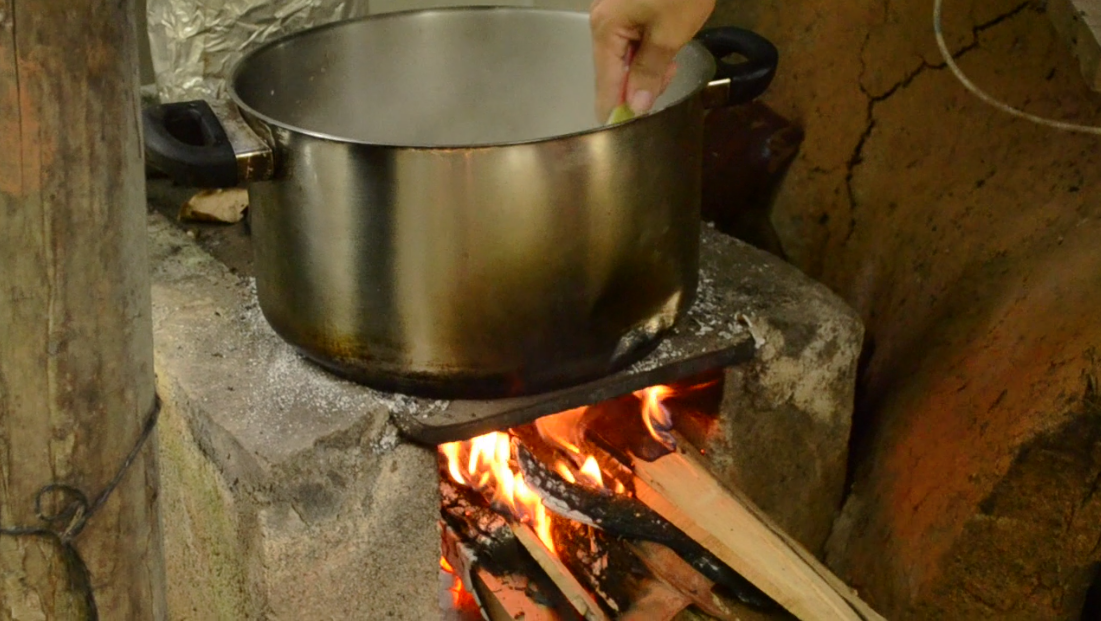 Mariana cooks rice pudding on the outdoor wood-powered stove. Cooking it over the fire gives it a richer taste, as the smoke intertwines with the flavors of the pudding.
A typical breakfast: fresh mixed fruit, scrambled eggs, gallo pinto (rice and red beans mixed together), and fried plantains.
Manga tree: this tree on the neighboring farm's property produced huge female mangos (mangas) nearly the size of a football, so juicy and sweet to eat.
Acidic lemons: even though they look like funky oranges this fruit is not sweet, and was squeezed into water and sugar to make juice
Shredded the coconut meat with a hand grinder. Shredded coconut was put into chocolate and baked goods.
A cashew fruit fell from an overhanging tree and, on its way down, was speared by this dangerous spiked plant.
Toasted Cashews
The cashew seeds after being thoroughly roasted and before being shelled, to remove any dangerous oils.
Frijoles Rojos
Red beans from La Iguana's harvest. The best beans I've ever tasted, just boiled and eaten with rice.
Hibiscus Tincture
Guanacaste Seeds
Toasted Cacao
The fermented and dried cacao is toasted so that it is easier to peel.
Cacao seeds after the skin has been removed
Jason works at hand grinding cacao while the family's cousins look on. He didn't speak a word of Spanish (practically) and they didn't speak English, but they still got along.
Amie puts toasted and peeled cacao beans into bags to sell
Chocolates by Jamie Oliver Kemp
Scarlet Macaws
While shooting some scenes of the cows in the upper pasture, Jorge and I came across a pair of Scarlet Macaws. It is very common to see them fly in pairs.
Gina
Emma
Nikolai
Sandy and Gina
Vickie
Ileana
Jamie
Sandy
Gina
Photo Credit: Jorge Salazar Garcia
Gina
Puriscal